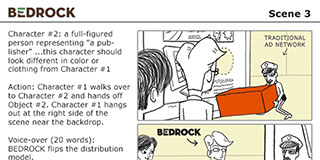 Bedrock
2010 | Storyboard as part of animated commercial for then Seattle studio, Lilipip. Commercial was then featured in TechCrunch.
Pickle and Peanut
Disney XD
Storyboard Test
My storyboard test for this Adult Swim-esque show, on Disney's pre-teen/teen-focused network.
Since this is a board driven show, I was given an episode outline and came up with the scenes and dialogue. I was also advised to keep the sketches rough, as is standard for their storyboards.